Is Sports Betting Legal In Iowa
As of May 2019, sports betting is a legal past time for the state of Iowa. The Hawkeye State has one of the largest landmasses in the union and more than a few bustling centers of industry. While there aren't many professional sports teams in Iowa, that doesn't mean there aren't plenty of professional sports fans, and Iowa still has a strong presence in the American Hockey League as well. Much like sports fans in any other state, Iowans have their favorite teams, teams that they will fiercely back through thick and thin. Some fans in Iowa may wonder though if they can't make a little money while backing their teams. This is why lawmakers decided that Iowa needed sports betting and legalized it. We are here to show how you can get in on the action while you are in Iowa. Multiple land-based sportsbooks have opened since sports betting became legal.
Placing wagers at a local sports betting lounge is a rite of passage for any sports fan that wants to put money on a game. The lounges that have opened in Iowa are listed below. If you still want to place bets on sporting events but do not feel like going out you have two options. You can go to the local sportsbook and join their mobile wagering platform or you can stay home and become a member of an offshore internet sportsbook. Sports gambling with offshore sites has been legally available in Iowa for well over a decade. If you are wondering how you can legally get in on the sports betting action, you have come to the right place. We will give you all the details you will need to understand the legality of Iowa sports betting and prepare you to make that sports wager you have been itching to make.
Land-Based Sports Betting in Iowa:
Right now, there are eight land-based sports betting lounges in Iowa, with many more on the way. Lawmakers passed IA SF 617 in May 2019 which allowed land-based sportsbooks to open for business legally. While right locations are currently open, other sports betting regulators and future sportsbooks in the state still need a bit more time before they can open the doors for their sports wagering operations. The eight locations that are open for locals to visit and wager on sporting events are:
Isle Waterloo Sportsbook in Waterloo, IA
Lakeside Sportsbook in Osceola, IA
Prairie Meadows Sportsbook in Altoona, IA
Isle Bettendorf Sportsbook in Bettendorf, IA
Sports betting lounges that are currently open and taking wagers are:
Ameristar Council Bluffs Sportsbook in Council Bluffs, IA
Catfish Bend Sportsbook in Burlington, IA
Rhythm City Sportsbook in Davenport, IA
Riverside Sportsbook in Riverside, IA
Legal Online Sports Betting in Iowa
Legal online sports betting was a part of the package when lawmakers passed IA SF 617. The sportsbooks that are open in the state are allowed to operate and facilitate online sportsbooks in conjunction with their land-based establishments. You will have the opportunity to bet on your favorite teams anywhere you want within Iowa as a member of one of these sites. Until 2021, all bettors that wish to join an Iowa based internet platform for sports betting must sign up at the actual sportsbook to be eligible to participate. But if you'd rather do all of your wagers on sporting events without leaving the house, you can always join an offshore internet sportsbook. These sportsbooks allow members to bet anytime, anywhere, with the use of their mobile devices. All you need to do to be part of this sports betting revolution is use one of our recommended offshore online sportsbooks that accept Iowa residents. The websites you see on this page are some of the best offshore sportsbooks you will ever find. We use them ourselves and these sportsbooks have been legal to use in the state of Iowa for years. If you are curious about what the offshore sportsbook world is all about, check out our reviews below.
Bovada Sportsbook - You Will Find The Most Betting Lines And Best Costumer Support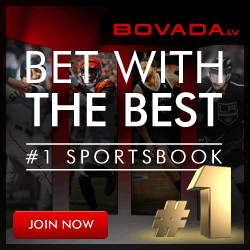 To save hours and hours of researching and deliberating just take a trip online to Bovada. They not only are probably the oldest and most respected of any online sports betting site they are also simply one of the best. They have earned their reputation and haven't slacked off due to making it big. They offer one of the most encompassing sportsbooks with sports ranging from major leagues like the NFL, NHL, NBA and more, to popular motorsports and even up and coming sports like the MMA. Never mind that they have one of the largest player bases in the U.S or that CBS Sports and major sports betting authority SBR use them as a source for betting odds, they also simply offer more than the competition.
How do they offer more you may ask? Well for starters once you sign up, 50% of the first deposit you make is matched with free play for up to $250. That means that when you deposit you get half of what you deposited back to use on betting in addition to what you already deposited. Sportsbooks in Nevada won't be giving you a single cent back, but Bovada knows that you will fall in love with their sportsbook the second you place the first bet, so they are willing to give you a bit more incentive to place that bet.
Top Iowa Sports Betting Sites
Rank
Online Sportsbooks
Bonuses Offered
Rating
US Players?
Play Now!





What's The Bottom Line? Will I Get In Trouble For Betting On Sports?
Seeing as betting on sports in Iowa is now legal, those that choose to bet will not get into any trouble. The same can be said for the use of online sportsbooks. No matter what platform you use when it comes to betting on sporting events in Iowa, you will not be penalized as it is your legal right to wager on sports. The only trouble would come from trying to place a props bet on a college athlete for an Iowa team as that is illegal through state platforms. You will not get into any trouble should you place that bet with an internet offshore sportsbook.